27th European Conference on Liquid Atomization and Spray Systems - ILASS 2016
Friday, 19. August 2016
Advances in Spray Analysis presented on the ILASS 2016 in Brighton
ILASS 2016 is the 27th European Conference on Liquid Atomization and Spray Systems. It will continue the tradition of providing a venue for industrial and academic researchers and students to engage in the scientific development and practice of Atomization and Spray Systems and to meet and share recent developments in these fields.

LaVision improves state-of-the-art spray analysis with their latest innovations:
ParticleMaster - new software with faster analysis speed and new user interface
SprayMaster - new software for spray plume and pattern geometry analysis
SLIPI - structured illumination removes stray light from laser imaging in dense sprays
Turnkey Phase Doppler Interferometer - industrial grade droplet size and velocity sensors
New ParticleMaster Software
The ParticleMaster software characterizes particles, droplets or bubbles from high magnification shadow images. The software is renewed from ground and comes up with a new user interface, much faster computation speed and interactive configuration. The built in live processing capability reveals instantaneous size distribution information.





Spray Plume and Pattern Geometry Analysis
LaVision?s SprayMaster Geometry package extracts spray plume morphology and geometry information from backlight and light sheet spray images including analysis of multi-hole injectors. The Geometry Software has been completely renewed for a significant processing speed-up and with a new user interface.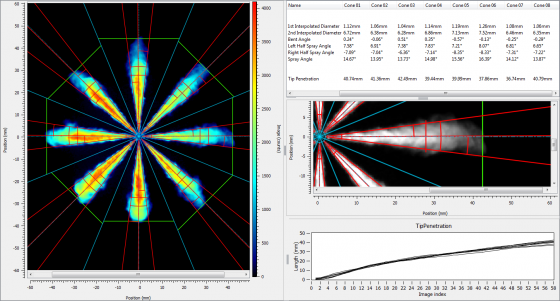 SLIPI - Improved laser imaging in dense sprays
Structured Laser Illumination Planar Imaging (SLIPI) is a novel technique for high-contrast spray imaging even in dense sprays. The SLIPI approach is an effective way to remove stray light from light sheet imaging in sprays. LaVision?s SprayMaster systems support time averaged as well as instantaneous SLIPI spray imaging.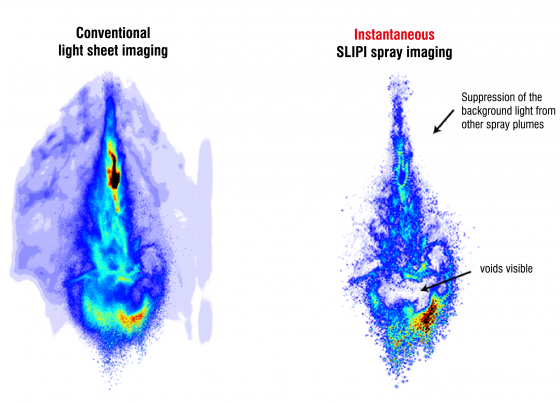 Turnkey Phase Doppler Interferometer
The Turnkey PDIs from Artium Technologies Inc. offer permanent alignment and are ready to acquire droplet size and velocity data right out of the box. The optical heads are sealed and rated IP66 for spray ingress protection and contain transmission and receiver optics in a single enclosure. These lightweight instruments are designed to be placed directly into a spray.




Meet us in Brighton
The ILASS Europe 2016 will be held at the University of Brighton, UK, from September 4th-7th, 2016. Come to meet us at the exhibition to discuss your specific requirements. We will be pleased to help solving your measurement task with our intelligent spray analysis systems. More information about the conference can be found here.