LaVision introduces two new 4MPx high-speed camera models
Wednesday, 26. September 2018
The Phantom v2640 and Phantom v1840 models are the latest addition to the ultrahigh-speed camera series.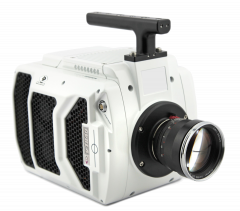 Both camera models have a resolution of 4Mpx and an exceptional image quality as well as a low noise level. The Phantom v1840 achieves up to 4,510 fps at full resolution and the Phantom v2640 up to 6,600 fps. Both camera models feature multiple operating modes (high-speed, correlated double sampling (CDS) and binned) for maximum flexibility. With a minimum interframe time of 500 ns, they are particularly suitable for PIV applications.

LaVision offers both camera models either with a standard F-mount front panel or optionally with an M42 front panel. The cameras are perfectly integrated into LaVision's DaVis 10 software.