This year's Tanasawa award and Lefebvre award were conferred on two of LaVision's co-operation partners during the 12th International Conference on Liquid Atomization and Spray Systems
Monday, 17. September 2012
LaVision is happy for its partners
The selection committee for the Tanasawa award, a prize for the best paper from each previous ICLASS conference, has decided to decorate Elias Kristensson and Edouard Berrocal this year. Both scientists, from the Division of Combustion Physics at Lund Institute of Technology in Sweden, have been acknowledged for their publications on "Structured Laser Illumination Planar Imaging" (SLIPI), a novel technique for multiple scattering suppression in dense sprays imaging.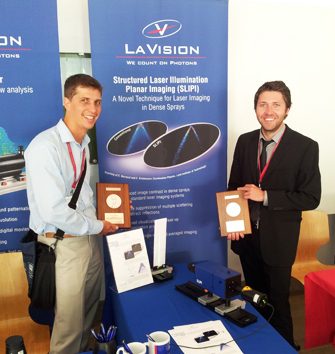 Elias Kristensson (on the right) and Edouard Berrocal
(on the left) are proudly presenting their award at
LaVision's booth on the ICLASS-2012 conference in
Heidelberg


William Bachalo, another co-operation partner from LaVision and CEO of the US company Artium Technologies has been honoured with the Lefebvre award for distinguished, continuing and encouraging contributions to the field of atomization and sprays.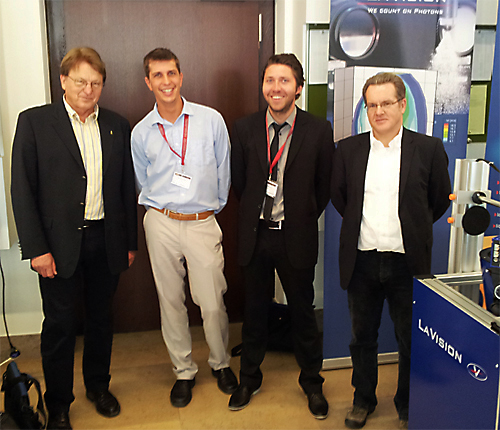 Heinrich Voges, CEO of LaVision GmbH Germany is very
happy with the three awardees (from the left) William Bachalo,
Edouard Berrocal and Elias Kristensson.