Successful participation in the First World Conference on Fracture and Damage Mechanics (Fracture 2014) event at the Mahatma Gandhi University in Kottayam, Kerala, India
Wednesday, 20. August 2014
LaVision won the first prize in a poster presentation awarded by an international jury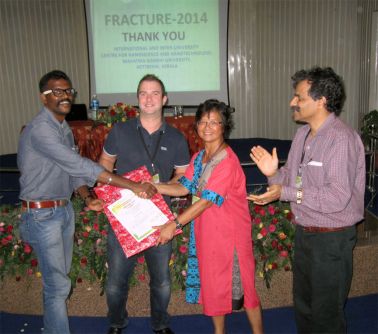 Poster award (from left to right: Mr. Arun Raj Ethi Raj, LaVision Singapore, Dr. Rob Littlewood, LaVision UK, Mrs. Sharon Kao-Walter, Blekinge Institute of Technology, Sweden and Prof. Sabu Thomas, Mahatma Gandhi University, India
The symposium brought together a group of highly experienced experts in the field of Fracture and Damage Mechanics. During the three-day conference, there was the opportunity to hear lectures by recognized authorities, that reported on recent progress, difficulties and breakthroughs in this field. During an accompanying exhibition, two of our experts, Dr. Rob Littlewood and Mr. Arun Raj Ethi Raj, informed the participants about the latest products and techniques in the portfolio of LaVision.
In the course of a poster presentation, an international jury awarded LaVision a prize for the best poster [
click here for download
], which shows several examples of DIC and DVC and how it could be used to identify cracks and fractures.